Helping people
with disabilities
live independently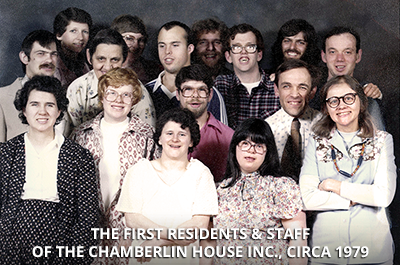 Founded in 1979, Chamberlin House began as a single home purchased by Jim and Nancy Goode, along with Nancy's mom and dad, Russ and Lila Chamberlin to serve the needs of their disabled son Jimmy and other developmentally disabled adults who lived in the area.
Their vision for that home and the services provided by the home's caregivers, would enhance the life of developmentally disabled adults. Their goal was to create a home-based community that would give individuals better, more independent lives.
Nancy Goode reflects, "We purchased the original Chamberlin House in 1979. The house is named after my mother and father because they so supported Jim's and my efforts to dream big and establish this first home. We had come to know another Albany family, Joyce and Bill Mitchell, who also had a disabled son, Bill Junior. Joyce and Bill became very involved with us by helping to fundraise for the organization and offering support in any way that they could. Bill spent many years as President of our Board of Directors."
The two families discovered other parents and guardians with the same goals. Through the Goode's original act of love, they set in motion a non-profit organization that now serves dozens of individuals in several group homes and one apartment complex – all based in Albany, Oregon.
Each of our homes is unique and serves a slightly different population. We provide 24-hour staffing, seven days a week. Our programs and services are designed to help our residents improve their quality of life, attain their greatest possible levels of self-sufficiency, and enjoy meaningful inclusion within the surrounding community.
Allison Jones
Program Director
Lehigh & Powell
Jackie Jones
Assistant Manager
Lehigh & Powell
Chad O'Neil
Program Director
Sander & Scheler
Kelly Parvin
Assistant Manager
Sander & Scheler
Stephanie Lieuallen
Program Director
Mitchell Place
Maria Hixson
Program Director
Mitchell Place
Tu Dam
Assistant Manager
Mitchell Place
Lionel DeRusha
Assistant Manager
Mitchell Place
Bridgette Barber
Program Director
Goode & Nancy's
Heather Hunsaker
Assistant Manager
Goode & Nancy's
Emma Mills
Program Director
Chapman & Dar's
Sarah Watkins
Assistant Manager
Chapman & Dar's
Carrie Howell
Executive Director
With over twenty-eight years of experience; Carrie brings with her a wealth of resources, knowledge and capability in the social services field.  Through the years, Carrie has held many positions including: program counselor, program manager and behavior specialist.
Carrie has served as State Director for Dungarvin Oregon LLC, where she was employed for eighteen years. Carrie also worked with Trillum Family Services for eight years. Carrie holds a bachelor's degree from Oregon State University with studies in Psychology and Sociology. Carrie is committed to carry out our mission and enriching the lives of people with disabilities by providing the highest quality of life to each person served.
Dianna Bates
Director of Operations
Dianna has spent the last 31 years dedicated to Chamberlin House. She has taken on many roles while serving, including DSP, Assistant Manager, Site Manager, Program Director, and her current position, Director of Operations.
Dianna is dedicated to ensuring Chamberlin's vision is realized through a commitment to collaboration and teamwork, supporting staff to achieve successful interactions with clients' needs, and helping people in their everyday lives realize their dreams to fruition.
Gina Loraine-McKibben
Director of Operations
Gina has spent the last eleven years in the human services field working for Dungarvin Oregon.  She worked in a variety of roles; most recently as Director responsible for the supervision of hiring, training, quality assurance, Therap and behavior supports.
Cody Wack
Behavior Professional
Cody has worked the last eight years in the fields of Education, Case Management, and IDD Behavior Supports. Cody has a passion for helping others achieve goals and gain skills that they once believed were impossible.  Cody oversees all behavior support plans and OIS trainings.  He has over three years experience specializing in trauma informed care and least intrusive interventions. 
Alisha Tarr
Financial Director
Alisha has extensive experience in professional office administration. Since 2011, Alisha has overseen the financial management of the organization. She works closely with the Executive Director regarding budgetary planning, administers DHS funding,  prepares financial statements, and ensures compliance with oversight of client financials.
Cheryl Olson
Human Resources Director
Cheryl has spent the last 18 years in the human services field. She has taken on many roles in administration, including office and human resources management. Cheryl provides support in the areas of payroll, recruiting, benefits administration, training, HRIS administration, employee safety and employee relations.
Nikki Rutland
Administrative Assistant
Whether in person or on the phone, Nikki is often the first person to welcome you to CHI.  Nikki provides administrative support to our entire team and helps to keep us organized. Nikki assists with client activities and lends a hand in many organizational projects.  
Joy's background is in marketing and advertising. She owned and operated her own marketing and advertising firm for most of her professional career. She and her husband, Bob Meister, also owned Whitewater Warehouse–a rafting and hiking company based out of the Rogue River, Oregon.
Joy and her husband, Bob, own a hazelnut farm which is located at the base of Mary's Peak in Philomath, Oregon. Joy joined the CHI Board in 2014 and has been committed to this stellar organization's mission ever since.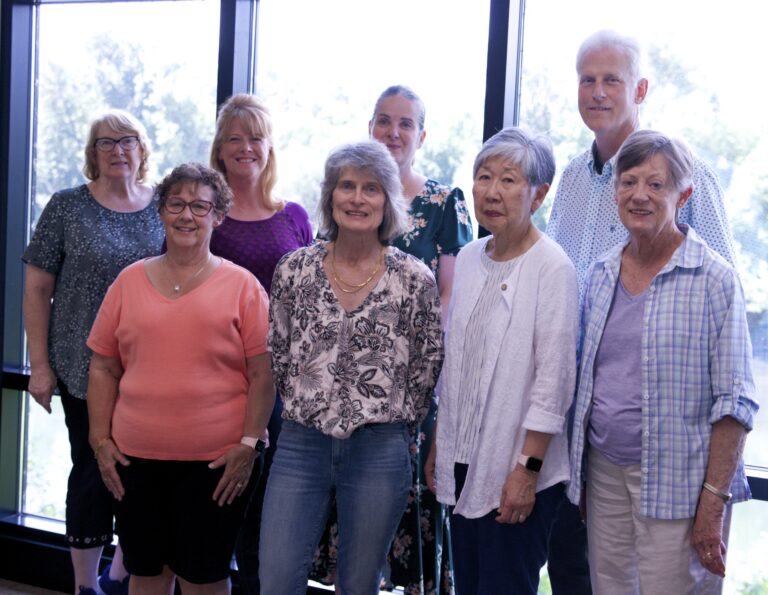 Chamberlin House Board of Directors
Amy is a Principal Broker and manages the Albany branch of Coldwell Banker Valley Brokers. She has been a practicing real estate agent since 2003. Born and raised in Albany, Amy understands the demands of our local marketplace.
As a past member of the United States Air Force, she is guided by its motto: "Aim High." Amy reinforces that motto in her personal real estate practice by focusing on the details of every sale and striving to offer her clients the best real estate experience possible.
Amy has three adult children, lives in Linn County, and is a past board member for the Women's Council of REALTORS, Willamette Assoc. of REALTORS, and a Coldwell Banker "Sterling Society" award recipient.
A retired Medical Technologist, Elaine worked at Salem Memorial Hospital and Albany General Hospital before retiring in 2012. She joined the CHI Board in 2004.
Elaine has been involved in the care of individuals with disabilities for most of her life–beginning with a brother who was diagnosed with Down Syndrome and then her own developmentally disabled daughter born years later. Her knowledge and empathy for disabled adults shines through and that understanding of their needs brings a unique and important perspective to the Board's decision making process.
Elaine and her husband, Bob, live in Albany. They have two adult children and two grandchildren.
Bill is a retired United Methodist Minister who has served in churches for 30 years across the Oregon-Idaho Annual Conference of the United Methodist Church.
Bill has a Master of Divinity degree from Garrett-Evangelical Theological Seminary. He also achieved an accounting certification from Oregon State University.
Post retirement Bill has been a special ed school bus driver for the Greater Albany Public Schools.
Nancy Baisinger
Voting Member
Nancy was educated as a Medical Technologist but spent most of her life devoted to helping to improve group homes for mentally and intellectually disabled adults. Her passion comes naturally in that she and her husband have a mentally disabled adult son who currently lives in a Corvallis group home.
Nancy joined CHI's Board in 1998 because she felt that she could contribute positive insights from the perspective of a parent with a disabled child. She served as CHI's Board President for many years.
Nancy lives in Albany with her husband, Glen. They have another adult son.
Darlene Chambers
Voting Member
Darlene and her husband, Dave, have farmed in Albany's Dever-Conner area for over 45 years. Besides farming, Darlene's professional background includes teaching, marketing, and business management careers. Darlene's personal interests are unique and diverse. She enjoys outdoor activities; hiking; beachcombing; reading; knitting; spinning, dyeing, weaving and felting fiber.
Darlene has lived in Oregon nearly all her life; graduating from Albany Union High School and Oregon State University. Darlene and Dave, along with their son, Eric, remain active farming their hazelnut orchard. On many days, you can find Darlene—along with her loyal dog, Cookie—in her barns tending her Oregon-registered fiber goats called Pygoras.
Terri Clark
Voting Member
Teri Clark grew up in Willamette Valley. She worked for Samaritan Albany General Hospital for 42 years; retiring as a hospice nurse.
Teri remains active in the ethics committee at the hospital. She served as an Albany Public School Foundation Board Member for 14 years. In her retirement, Teri enjoys her granddaughter, quilting, and traveling.
Holly Smith
Voting Member
Holly Smith is a local girl—born in Corvallis—but lived for almost two decades in Bolivia and Peru.  This gave her cross-cultural experience and the ability to speak Spanish fluently.
She has worked in the real estate industry as a mortgage broker for the past 20 years. It gives her much pleasure to help her clients find the best loan options so that they can purchase their own home.
When she is not working on her clients' behalf, she enjoys being a part of the Corvallis Rowing Club, pursuing more opportunities to travel internationally, watching professional soccer games, and spending time with her family.
Kathleen Walker
Voting Member
Currently the Special Education Director for Monroe School District, Kathleen has dedicated the past 34 years to the field of special education working with students and families.  During the past 16 years she has been the SPED director for large school districts in the mid-valley and small school districts in Eastern Oregon.   She also had the opportunity to serve as an Elementary Principal for an additional 3 years in rural Baker County.  
Kathleen holds a B.S. and MEd from the University of Idaho and advanced graduate work from Boise State University with administrative licensure through Lewis and Clark.
Kathleen and her husband, Mike, have lived in Albany since 2008.  They have two adult sons and four grandsons.